About Us
Alifs is a Indian takeaway in Horwich. Why don't you try our Meat Stuff Mushroom or Rogan Josh Balti?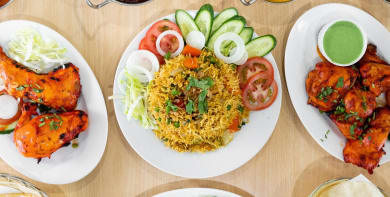 Reviews
136 reviews
Colin
"Very nice food, will order again"
06/07/2022
Gareth
"Very pleasant delivery man, excellent food, will definitely order again."
01/07/2022
Lesley
"FOOD WAS EXELLENT, I WAS EVEN GIVEN EXTRA ON MY STARTER, DELIVERED ON TIME, RETURNING CUSTOMER, COMPLEMENTS TO THE CHEF AND DELIVERY DRIVER"
29/06/2022
Sophie
"Really nice food and I'm fussy! Got a lot more chicken pakoras than usual and they weren't soggy! Really nice. Would definitely order again!"
25/06/2022
Menu
Red Bull Energy Drink 250ml
UK's #1 Energy drink – giving you Wings whenever you need them
£1.99
Coca-Cola Original Taste 330ml Can
£1.00
Vegetable Mixed Starter
Onion bajee, veg somasa and veg spring rolls
£4.00
Paneer Tikka
Grilled Indian cheese
£4.00
Alif Special
Chicken fillet cooked with light spice in a cheese sauce
£4.00
Murgh Bhaji Starter
Chicken fillet cooked with cinnamon spice, onion & peppers
£4.50
Hoppers
Crisp rice pancakes with chicken filling
£3.50
Tandoori Chicken Starter
On the bone quarter chicken marinated & barbecued
£3.50
Meat Samosa
Deep fried meat pasties
£3.00
Prawn Puree
Deep fried unleavened bread with prawn stuffing
£3.50
Chicken Garlic
Chicken in garlic & butter
£4.00
Mixed Starter
Shish kebab, chicken tikka & meat samosa
£4.00
Vegetable Samosa
Deep fried vegetable pasties
£3.00
Chicken Samosa
Minced chicken with herbs & spices
£3.00
King Prawn Butterfly
King prawns deep fried & battered
£4.50
Mushroom Puree
Deep fried unleavened bread with mushroom stuffing
£3.00
Exotic Fish Hot
Fish in black pepper, garlic & spring onion marinated with cinnamon spice
£4.50
Exotic Fish Medium
Fish in black pepper, garlic & spring onion marinated with cinnamon spice
£4.50
Onion Bajee
Deep fried spiced onion balls
£2.50
Tandoori Lamb Chop Starter
Lamb chops marinated & barbecued
£4.50
Chicken Tikka Puree
Deep fried unleavened bread with chicken stuffing
£3.50
Chicken Pakora
Spiced chicken deep fried with butter
£3.50
Chicken Chaat
Chicken cooked in chaat masala
£3.50
King Prawn Tikka
King prawn marinated & barbecued
£4.50
Chicken Tikka Starter
Chicken pieces marinated & barbecued
£3.50
Shish Kebab
Minced meat skewered & tandoori
£3.50
King Prawn Garlic
King prawn in garlic & butter
£4.50
King Prawn Puree
Deep fried unleavened bread with king prawn stuffing
£4.50
Lamb Tikka Garlic
Lamb in garlic & butter
£4.50
Lamb Tikka Starter
Lamb marinated & barbecued
£3.50
Spicy Shish Kebab
Mince meat skewer with chillis and onions
£3.75
Shami Kebab
Minced meat croquettes & grilled
£3.50
Tandoori Main Exotic
Tandoori marinated in yoghurt, cooked in green peppers
£8.00
Tandoori Main Shashlik
Tandoori marinated in yoghurt, cooked in green peppers
£8.00
Tandoori Mixed Grill
Mixture of tandoori tikka, lamb chop & shish kebab
£8.95
King Prawn Tikka Shashlik
King prawn cooked in clay oven with onion peppers
£12.95
Mix Tikka Shashlik
Mix tikka cooked with onion peppers in tandoori oven
£10.95
Tandoori Chicken Main
On the bone, marinated in yoghurt & roasted in tandoori (clay oven)
£7.50
Murgh Bhaji (Main)
Chicken fillet cooked with cinnamon spice, onion & peppers
£8.95
Paneer Shashlik
Indian cheese cooked with Alif spices, onions and peppers
£7.95
Tikka Main King Prawn
Marinated in yoghurt sauce, roasted in clay oven
£11.95
Tikka Main Chicken
Marinated in yoghurt sauce, roasted in clay oven
£7.95
Tikka Main Lamb
Marinated in yoghurt sauce, roasted in clay oven
£8.95
Tandoori Lamb Chop
Lamb chops marinated & barbecued
£8.95
Shahee Chicken Tikka
Cooked with minced lamb & herbs & spices
£7.50
Shahee Lamb Tikka
Cooked with minced lamb & herbs & spices
£8.95
Shahee King Prawn
Cooked with minced lamb & herbs & spices
£9.95
Shahee Vegetable
Cooked with minced lamb & herbs & spices
£7.00
Shahee King Prawn Tikka
Cooked with minced lamb & herbs & spices
£11.95
Shahee Mixed Tikka
Cooked with minced lamb & herbs & spices
£7.95
Shahee Tandoori (Off the Bone)
Cooked with minced lamb & herbs & spices
£7.95
Rezala Chicken Tikka
Spiced with onions & tomato & pimento with cinnamon spice
£7.50
Rezala Lamb Tikka
Spiced with onions & tomato & pimento with cinnamon spice
£8.95
Rezala King Prawn
Spiced with onions & tomato & pimento with cinnamon spice
£9.95
Rezala Vegetable
Spiced with onions & tomato & pimento with cinnamon spice
£7.00
Rezala King Prawn Tikka
Spiced with onions & tomato & pimento with cinnamon spice
£11.95
Rezala Mixed Tikka
Spiced with onions & tomato & pimento with cinnamon spice
£7.95
Rezala Tandoori (Off the Bone)
Spiced with onions & tomato & pimento with cinnamon spice
£7.95
Sondia Chicken Tikka
Very hot spiced dish prepared in green chilli & coriander
Very Hot
£7.50
Sondia Lamb Tikka
Very hot spiced dish prepared in green chilli & coriander
Very Hot
£8.95
Sondia King Prawn
Very hot spiced dish prepared in green chilli & coriander
Very Hot
£9.95
Sondia Vegetable
Very hot spiced dish prepared in green chilli & coriander
Very Hot
£7.00
Sondia King Prawn Tikka
Very hot spiced dish prepared in green chilli & coriander
Very Hot
£11.95
Sondia Mixed Tikka
Very hot spiced dish prepared in green chilli & coriander
Very Hot
£7.95
Sondia Tandoori (Off the Bone)
Very hot spiced dish prepared in green chilli & coriander
Very Hot
£7.95
Nepalese Chicken Tikka
Hot dish cooked in Nepalese sauce with onions
Hot
£7.50
Nepalese Lamb Tikka
Hot dish cooked in Nepalese sauce with onions
Hot
£8.95
Nepalese King Prawn
Hot dish cooked in Nepalese sauce with onions
Hot
£9.95
Nepalese Vegetable
Hot dish cooked in Nepalese sauce with onions
Hot
£7.00
Nepalese King Prawn Tikka
Hot dish cooked in Nepalese sauce with onions
Hot
£11.95
Nepalese Mixed Tikka
Hot dish cooked in Nepalese sauce with onions
Hot
£7.95
Nepalese Tandoori (Off the Bone)
Hot dish cooked in Nepalese sauce with onions
Hot
£7.95
Saagwala (Medium) Chicken Tikka
Spinach with aromatic spices
£7.50
Saagwala (Medium) Lamb Tikka
Spinach with aromatic spices
£8.95
Saagwala (Medium) King Prawn
Spinach with aromatic spices
£9.95
Saagwala (Medium) Vegetable
Spinach with aromatic spices
£7.00
Saagwala (Medium) King Prawn Tikka
Spinach with aromatic spices
£11.95
Saagwala (Medium) Mixed Tikka
Spinach with aromatic spices
£7.95
Saagwala (Medium) Tandoori (Off the Bone)
Spinach with aromatic spices
£7.95
Rashun Chicken Tikka
Barbecued & cooked in garlic & butter sauce
£7.50
Rashun Lamb Tikka
Barbecued & cooked in garlic & butter sauce
£8.95
Rashun King Prawn
Barbecued & cooked in garlic & butter sauce
£9.95
Rashun Vegetable
Barbecued & cooked in garlic & butter sauce
£7.00
Rashun King Prawn Tikka
Barbecued & cooked in garlic & butter sauce
£11.95
Rashun Mixed Tikka
Barbecued & cooked in garlic & butter sauce
£7.95
Rashun Tandoori (Off the Bone)
Barbecued & cooked in garlic & butter sauce
£7.95
Paneer Chicken Tikka
Cooked with cheese, ground ginger, herbs & various spices of medium strength
Medium
£7.50
Paneer Lamb Tikka
Cooked with cheese, ground ginger, herbs & various spices of medium strength
Medium
£7.95
Paneer King Prawn
Cooked with cheese, ground ginger, herbs & various spices of medium strength
Medium
£9.95
Paneer Vegetable
Cooked with cheese, ground ginger, herbs & various spices of medium strength
Medium
£7.00
Paneer King Prawn Tikka
Cooked with cheese, ground ginger, herbs & various spices of medium strength
Medium
£11.95
Paneer Mixed Tikka
Cooked with cheese, ground ginger, herbs & various spices of medium strength
Medium
£7.95
Paneer Tandoori (Off the Bone)
Cooked with cheese, ground ginger, herbs & various spices of medium strength
Medium
£7.95
Chilli Masala Chicken Tikka
Hot dish cooked with herbs & spices, pickle & green chilli
Hot
£7.50
Chilli Masala Lamb Tikka
Hot dish cooked with herbs & spices, pickle & green chilli
Hot
£8.95
Chilli Masala King Prawn
Hot dish cooked with herbs & spices, pickle & green chilli
Hot
£9.95
Chilli Masala Vegetable
Hot dish cooked with herbs & spices, pickle & green chilli
Hot
£7.00
Chilli Masala King Prawn Tikka
Hot dish cooked with herbs & spices, pickle & green chilli
Hot
£11.95
Chilli Masala Mixed Tikka
Hot dish cooked with herbs & spices, pickle & green chilli
Hot
£7.95
Chilli Masala Tandoori (Off the Bone)
Hot dish cooked with herbs & spices, pickle & green chilli
Hot
£7.95
Pasanda Chicken Tikka
Cooked with almonds, yoghurt & cream
£7.50
Pasanda Lamb Tikka
Cooked with almonds, yoghurt & cream
£8.95
Pasanda King Prawn
Cooked with almonds, yoghurt & cream
£9.95
Pasanda King Prawn Tikka
Cooked with almonds, yoghurt & cream
£11.95
Pasanda Mixed Tikka
Cooked with almonds, yoghurt & cream
£7.95
Pasanda Tandoori (Off the Bone)
Cooked with almonds, yoghurt & cream
£7.95
Lussi Chicken Tikka
A sweet & hot sauce cooked in coriander, herbs & green chillies
Hot
£7.50
Lussi Lamb Tikka
A sweet & hot sauce cooked in coriander, herbs & green chillies
Hot
£8.95
Lussi King Prawn
A sweet & hot sauce cooked in coriander, herbs & green chillies
Hot
£9.95
Lussi Vegetable
A sweet & hot sauce cooked in coriander, herbs & green chillies
Hot
£7.00
Lussi King Prawn Tikka
A sweet & hot sauce cooked in coriander, herbs & green chillies
Hot
£11.95
Lussi Mixed Tikka
A sweet & hot sauce cooked in coriander, herbs & green chillies
Hot
£7.95
Lussi Tandoori (Off the Bone)
A sweet & hot sauce cooked in coriander, herbs & green chillies
Hot
£7.95
Alif Keema Korai
Minced lamb cooked with onions, pepper, tomatoes, garlic, ginger and green chillies
£7.95
King Prawn Shell Balti
King prawns sliced & cooked in the shell for added flavour in addition to aromatic spices served in a dry sauce
£11.95
South Indian Murgh Balti
Tandoori chicken, taken off the bone then cooked with mince meat, coriander & spices in a special balti sauce
£8.00
Paneer Saagwala
Fresh Spinach cooked with chunks of Indian cheese, Garlic,onion and peppers.(Medium to hot)
£7.50
Lamb Chop Karai
Lamb chop cooked in charcoal grill with karai sauce & Alif spices
£8.95
Chicken Khatmandu
This curry is made with lentils, spring onions, mint & cinnamon
Medium
£8.00
Gosht Jaipuree
Marinated diced lamb tikka in a special sauce with onions & capsicum
£9.00
Lamb & Aloo Balti Special
Lamb cooked with potatoes medium hot
(Homestyle)
£9.00
Akbari Cham Cham Chicken Tikka
Chicken OR lamb tikka cooked with spring onions, coriander with garlic & ginger
£7.95
Akbari Cham Cham Lamb Tikka
Chicken OR lamb tikka cooked with spring onions, coriander with garlic & ginger
£9.00
Alif Balti Peshwari
Diced pieces of chicken in creamy balti sauce using ground almonds & peshwari
£8.00
Alif Achari Chicken Tikka
Chicken or lamb tikka cooked in a medium thick sauce with achari pickle and tomatoes. Garnished with coriander to make a tantalising dish
£7.50
Alif Achari Lamb Tikka
Chicken or lamb tikka cooked in a medium thick sauce with achari pickle and tomatoes. Garnished with coriander to make a tantalising dish
£9.00
Alif Achari King prawn
Chicken or lamb tikka cooked in a medium thick sauce with achari pickle and tomatoes. Garnished with coriander to make a tantalising dish
£11.95
Podina Chicken Tikka
Slightly hot dish cooked with garlic, onions, ginger, tomato puree & a touch of yoghurt with fresh garden mint
Slightly Hot
£7.50
Podina Lamb Tikka
Slightly hot dish cooked with garlic, onions, ginger, tomato puree & a touch of yoghurt with fresh garden mint
Slightly Hot
£8.95
Naga Special Chicken Tikka
£8.00
Butter Chicken
Chicken cooked in butter, cream & almonds
£7.95
Kabuli Chicken
Tender pieces of breast cooked with spices & seasoning with chickpeas, tomatoes & coriander then thickened to give a rich taste
£7.95
King Prawn Akbari Cham Cham
King prawn tikka cooked with garlic ginger onions!
An Alif favourite
£12.00
Makhanwala
Chicken cooked in a rich mild creamy sauce with cheese
Mild
£8.00
Chicken Mansoor
Sliced chicken tikka with garlic & fresh onions, chillies & aromatic spices
£7.95
Aloo Gobi Masala
Spiced potatoes & cauliflower in a rich spicy dish with cream
£7.00
Balti Tikka Masala King Prawn
Cooked in a spicy sauce with balti herbs to give a mouth watering taste
£11.95
Balti Tikka Masala Chicken
Cooked in a spicy sauce with balti herbs to give a mouth watering taste
£8.00
Balti Tikka Masala Lamb
Cooked in a spicy sauce with balti herbs to give a mouth watering taste
£8.95
Mixed Tikka Masala
Mixture of chicken & lamb, barbecued into a rich masala sauce
£9.95
Paneer Tikka Masala
Chunks of Indian Cheese cooked into a rich creamy sauce
£7.50
Tikka Masala King Prawn
Barbecued & into a rich masala dish with cream
£11.95
Tikka Masala Chicken
Barbecued & into a rich masala dish with cream
£7.95
Tikka Masala Lamb
Barbecued & into a rich masala dish with cream
£8.95
Tikka Masala Spicy Chicken
Barbecued & into a rich masala dish with cream
£8.50
Mixed Tikka Naga Massalla (Creamy)
Mixture of chicken & lamb barbecued in the clay oven
£8.95
Tikka Naga Massalla (Creamy) King Prawn
£11.95
Tikka Naga Massalla (Creamy) Chicken
£8.00
Tikka Naga Massalla (Creamy) Lamb
£9.00
Tikka Naga Massalla (Creamy) Paneer
£7.95
Madras Balti Chicken Tikka
A hot favourite. A curry with coriander & ground chillies prepared in a metal pot with balti sauce
Hot
£7.50
Madras Balti Lamb Tikka
A hot favourite. A curry with coriander & ground chillies prepared in a metal pot with balti sauce
Hot
£8.95
Madras Balti King Prawn
A hot favourite. A curry with coriander & ground chillies prepared in a metal pot with balti sauce
Hot
£9.95
Madras Balti Chicken
A hot favourite. A curry with coriander & ground chillies prepared in a metal pot with balti sauce
Hot
£6.95
Madras Balti Lamb
A hot favourite. A curry with coriander & ground chillies prepared in a metal pot with balti sauce
Hot
£7.50
Madras Balti Vegetable
A hot favourite. A curry with coriander & ground chillies prepared in a metal pot with balti sauce
Hot
£5.95
Madras Balti Mixed
A hot favourite. A curry with coriander & ground chillies prepared in a metal pot with balti sauce
Hot
£7.50
Madras Balti King Prawn Tikka
A hot favourite. A curry with coriander & ground chillies prepared in a metal pot with balti sauce
Hot
£11.95
Madras Balti Mixed Tikka
A hot favourite. A curry with coriander & ground chillies prepared in a metal pot with balti sauce
Hot
£7.95
Madras Balti Tandoori (Off the Bone)
A hot favourite. A curry with coriander & ground chillies prepared in a metal pot with balti sauce
Hot
£7.95
Dupiaza Balti Chicken Tikka
A rich but mild flavour some sauce combining fresh onions & whole spices prepared in a metal pot with balti sauce
Mild
£7.50
Dupiaza Balti Lamb Tikka
A rich but mild flavour some sauce combining fresh onions & whole spices prepared in a metal pot with balti sauce
Mild
£8.95
Dupiaza Balti King Prawn
A rich but mild flavour some sauce combining fresh onions & whole spices prepared in a metal pot with balti sauce
Mild
£9.95
Dupiaza Balti Chicken
A rich but mild flavour some sauce combining fresh onions & whole spices prepared in a metal pot with balti sauce
Mild
£6.95
Dupiaza Balti Lamb
A rich but mild flavour some sauce combining fresh onions & whole spices prepared in a metal pot with balti sauce
Mild
£7.50
Dupiaza Balti Vegetable
A rich but mild flavour some sauce combining fresh onions & whole spices prepared in a metal pot with balti sauce
Mild
£5.95
Dupiaza Balti Mixed
A rich but mild flavour some sauce combining fresh onions & whole spices prepared in a metal pot with balti sauce
Mild
£7.50
Dupiaza Balti King Prawn Tikka
A rich but mild flavour some sauce combining fresh onions & whole spices prepared in a metal pot with balti sauce
Mild
£11.95
Dupiaza Balti Mixed Tikka
A rich but mild flavour some sauce combining fresh onions & whole spices prepared in a metal pot with balti sauce
Mild
£7.95
Dupiaza Balti Tandoori (Off the Bone)
A rich but mild flavour some sauce combining fresh onions & whole spices prepared in a metal pot with balti sauce
Mild
£7.95
Shahee Balti Chicken Tikka
Cooked with minced lamb & herbs & spices with balti sauce, which makes this dish very special
£7.50
Shahee Balti Lamb Tikka
Cooked with minced lamb & herbs & spices with balti sauce, which makes this dish very special
£8.95
Shahee Balti King Prawn
Cooked with minced lamb & herbs & spices with balti sauce, which makes this dish very special
£9.95
Shahee Balti Chicken
Cooked with minced lamb & herbs & spices with balti sauce, which makes this dish very special
£6.50
Shahee Balti Lamb
Cooked with minced lamb & herbs & spices with balti sauce, which makes this dish very special
£7.50
Shahee Balti Vegetable
Cooked with minced lamb & herbs & spices with balti sauce, which makes this dish very special
£5.95
Shahee Balti Mixed
Cooked with minced lamb & herbs & spices with balti sauce, which makes this dish very special
£7.50
Shahee Balti King Prawn Tikka
Cooked with minced lamb & herbs & spices with balti sauce, which makes this dish very special
£11.95
Shahee Balti Mixed Tikka
Cooked with minced lamb & herbs & spices with balti sauce, which makes this dish very special
£7.95
Shahee Balti Tandoori (Off the Bone)
Cooked with minced lamb & herbs & spices with balti sauce, which makes this dish very special
£7.95
Rogan Josh Balti Chicken Tikka
A tomato & onion based curry flavoured with coriander, prepared in a metal pot with balti sauce
Slightly Hot
£7.50
Rogan Josh Balti Lamb Tikka
A tomato & onion based curry flavoured with coriander, prepared in a metal pot with balti sauce
Slightly Hot
£8.95
Rogan Josh Balti King Prawn
A tomato & onion based curry flavoured with coriander, prepared in a metal pot with balti sauce
Slightly Hot
£9.95
Rogan Josh Balti Chicken
A tomato & onion based curry flavoured with coriander, prepared in a metal pot with balti sauce
Slightly Hot
£6.95
Rogan Josh Balti Lamb
A tomato & onion based curry flavoured with coriander, prepared in a metal pot with balti sauce
Slightly Hot
£7.50
Rogan Josh Balti Vegetable
A tomato & onion based curry flavoured with coriander, prepared in a metal pot with balti sauce
Slightly Hot
£5.95
Rogan Josh Balti Mixed
A tomato & onion based curry flavoured with coriander, prepared in a metal pot with balti sauce
Slightly Hot
£7.50
Rogan Josh Balti King Prawn Tikka
A tomato & onion based curry flavoured with coriander, prepared in a metal pot with balti sauce
Slightly Hot
£11.95
Rogan Josh Balti Mixed Tikka
A tomato & onion based curry flavoured with coriander, prepared in a metal pot with balti sauce
Slightly Hot
£7.95
Rogan Josh Balti Tandoori (Off the Bone)
A tomato & onion based curry flavoured with coriander, prepared in a metal pot with balti sauce
Slightly Hot
£7.95
Chilli Balti Chicken Tikka
Fairly hot dish cooked with fresh green chillies, onions & coriander in special balti sauce
Fairly Hot
£7.50
Chilli Balti Lamb Tikka
Fairly hot dish cooked with fresh green chillies, onions & coriander in special balti sauce
Fairly Hot
£8.95
Chilli Balti King Prawn
Fairly hot dish cooked with fresh green chillies, onions & coriander in special balti sauce
Fairly Hot
£9.95
Chilli Balti Chicken
Fairly hot dish cooked with fresh green chillies, onions & coriander in special balti sauce
Fairly Hot
£6.95
Chilli Balti Lamb
Fairly hot dish cooked with fresh green chillies, onions & coriander in special balti sauce
Fairly Hot
£7.50
Chilli Balti Vegetable
Fairly hot dish cooked with fresh green chillies, onions & coriander in special balti sauce
Fairly Hot
£5.95
Chilli Balti Mixed
Fairly hot dish cooked with fresh green chillies, onions & coriander in special balti sauce
Fairly Hot
£7.50
Chilli Balti King Prawn Tikka
Fairly hot dish cooked with fresh green chillies, onions & coriander in special balti sauce
Fairly Hot
£11.95
Chilli Balti Mixed Tikka
Fairly hot dish cooked with fresh green chillies, onions & coriander in special balti sauce
Fairly Hot
£7.95
Chilli Balti Tandoori (Off the Bone)
Fairly hot dish cooked with fresh green chillies, onions & coriander in special balti sauce
Fairly Hot
£7.95
Bhuna Balti Chicken Tikka
A medium strength curry cooked with onions, herbs & aromatic spices, prepared in a metal pot with balti sauce
Medium
£7.50
Bhuna Balti Lamb Tikka
A medium strength curry cooked with onions, herbs & aromatic spices, prepared in a metal pot with balti sauce
Medium
£8.95
Bhuna Balti King Prawn
A medium strength curry cooked with onions, herbs & aromatic spices, prepared in a metal pot with balti sauce
Medium
£9.95
Bhuna Balti Chicken
A medium strength curry cooked with onions, herbs & aromatic spices, prepared in a metal pot with balti sauce
Medium
£6.95
Bhuna Balti Lamb
A medium strength curry cooked with onions, herbs & aromatic spices, prepared in a metal pot with balti sauce
Medium
£7.50
Bhuna Balti Vegetable
A medium strength curry cooked with onions, herbs & aromatic spices, prepared in a metal pot with balti sauce
Medium
£5.95
Bhuna Balti Mixed
A medium strength curry cooked with onions, herbs & aromatic spices, prepared in a metal pot with balti sauce
Medium
£7.50
Bhuna Balti King Prawn Tikka
A medium strength curry cooked with onions, herbs & aromatic spices, prepared in a metal pot with balti sauce
Medium
£11.95
Bhuna Balti Mixed Tikka
A medium strength curry cooked with onions, herbs & aromatic spices, prepared in a metal pot with balti sauce
Medium
£7.95
Bhuna Balti Tandoori (Off the Bone)
A medium strength curry cooked with onions, herbs & aromatic spices, prepared in a metal pot with balti sauce
Medium
£7.95
Korai Balti Chicken Tikka
A medium dish, cooked with a cinnamon stick, herbs & spices with balti sauce
Medium
£7.50
Korai Balti Lamb Tikka
A medium dish, cooked with a cinnamon stick, herbs & spices with balti sauce
Medium
£8.95
Korai Balti King Prawn
A medium dish, cooked with a cinnamon stick, herbs & spices with balti sauce
Medium
£9.95
Korai Balti Chicken
A medium dish, cooked with a cinnamon stick, herbs & spices with balti sauce
Medium
£6.95
Korai Balti Lamb
A medium dish, cooked with a cinnamon stick, herbs & spices with balti sauce
Medium
£7.50
Korai Balti Vegetable
A medium dish, cooked with a cinnamon stick, herbs & spices with balti sauce
Medium
£5.95
Korai Balti Mixed
A medium dish, cooked with a cinnamon stick, herbs & spices with balti sauce
Medium
£7.50
Korai Balti King Prawn Tikka
A medium dish, cooked with a cinnamon stick, herbs & spices with balti sauce
Medium
£11.95
Korai Balti Mixed Tikka
A medium dish, cooked with a cinnamon stick, herbs & spices with balti sauce
Medium
£7.95
Korai Balti Tandoori (Off the Bone)
A medium dish, cooked with a cinnamon stick, herbs & spices with balti sauce
Medium
£7.95
Korai Balti Keema & Aloo
A medium dish, cooked with a cinnamon stick, herbs & spices with balti sauce
Medium
£7.50
Balti Chicken Tikka
Prepared in a metal pot with a blend of several spices & green peppers & balti sauce, which makes this dish very special
£7.95
Balti Lamb Tikka
Prepared in a metal pot with a blend of several spices & green peppers & balti sauce, which makes this dish very special
£8.95
Balti King Prawn
Prepared in a metal pot with a blend of several spices & green peppers & balti sauce, which makes this dish very special
£9.95
Balti Chicken
Prepared in a metal pot with a blend of several spices & green peppers & balti sauce, which makes this dish very special
£6.95
Balti Lamb
Prepared in a metal pot with a blend of several spices & green peppers & balti sauce, which makes this dish very special
£7.95
Balti Vegetable
Prepared in a metal pot with a blend of several spices & green peppers & balti sauce, which makes this dish very special
£5.95
Balti Mixed
Prepared in a metal pot with a blend of several spices & green peppers & balti sauce, which makes this dish very special
£7.95
Balti King Prawn Tikka
Prepared in a metal pot with a blend of several spices & green peppers & balti sauce, which makes this dish very special
£11.95
Balti Keema
Prepared in a metal pot with a blend of several spices & green peppers & balti sauce, which makes this dish very special
£6.95
Balti Mixed Tikka
Prepared in a metal pot with a blend of several spices & green peppers & balti sauce, which makes this dish very special
£7.95
Balti Tandoori (Off the Bone)
Prepared in a metal pot with a blend of several spices & green peppers & balti sauce, which makes this dish very special
£7.95
Jalfrezi Balti Chicken Tikka
Fresh green chillies & coriander cooked with herbs. Prepared in a metal pot with balti sauce
Hot
£7.50
Jalfrezi Balti Lamb Tikka
Fresh green chillies & coriander cooked with herbs. Prepared in a metal pot with balti sauce
Hot
£8.95
Jalfrezi Balti King Prawn
Fresh green chillies & coriander cooked with herbs. Prepared in a metal pot with balti sauce
Hot
£9.95
Jalfrezi Balti Chicken
Fresh green chillies & coriander cooked with herbs. Prepared in a metal pot with balti sauce
Hot
£6.95
Jalfrezi Balti Lamb
Fresh green chillies & coriander cooked with herbs. Prepared in a metal pot with balti sauce
Hot
£7.50
Jalfrezi Balti Vegetable
Fresh green chillies & coriander cooked with herbs. Prepared in a metal pot with balti sauce
Hot
£5.95
Jalfrezi Balti Mixed
Fresh green chillies & coriander cooked with herbs. Prepared in a metal pot with balti sauce
Hot
£7.50
Jalfrezi Balti King Prawn Tikka
Fresh green chillies & coriander cooked with herbs. Prepared in a metal pot with balti sauce
Hot
£11.95
Jalfrezi Balti Mixed Tikka
Fresh green chillies & coriander cooked with herbs. Prepared in a metal pot with balti sauce
Hot
£7.95
Jalfrezi Balti Tandoori (Off the Bone)
Fresh green chillies & coriander cooked with herbs. Prepared in a metal pot with balti sauce
Hot
£7.95
Peshwari Balti Lamb Tikka
Balti cooked with peshwari flavour medium hot
£8.00
Peshwari Balti Lamb
Balti cooked with peshwari flavour medium hot
£7.50
Peshwari Balti Vegetable
Balti cooked with peshwari flavour medium hot
£5.95
Peshwari Balti Mixed
Balti cooked with peshwari flavour medium hot
£7.50
Peshwari Balti Mixed Tikka
Balti cooked with peshwari flavour medium hot
£7.95
Peshwari Balti Tandoori (Off the Bone)
Balti cooked with peshwari flavour medium hot
£7.95
Dhansak Chicken Tikka
A mild lentil based dish with pieces of pineapple & lemon juice, sweet & sour
Mild
£7.50
Dhansak Lamb Tikka
A mild lentil based dish with pieces of pineapple & lemon juice, sweet & sour
Mild
£8.00
Dhansak King Prawn
A mild lentil based dish with pieces of pineapple & lemon juice, sweet & sour
Mild
£9.95
Dhansak Chicken
A mild lentil based dish with pieces of pineapple & lemon juice, sweet & sour
Mild
£6.95
Dhansak Lamb
A mild lentil based dish with pieces of pineapple & lemon juice, sweet & sour
Mild
£7.95
Dhansak Prawn
A mild lentil based dish with pieces of pineapple & lemon juice, sweet & sour
Mild
£7.50
Dhansak Vegetable
A mild lentil based dish with pieces of pineapple & lemon juice, sweet & sour
Mild
£5.95
Dhansak Mixed
A mild lentil based dish with pieces of pineapple & lemon juice, sweet & sour
Mild
£7.50
Dhansak King Prawn Tikka
A mild lentil based dish with pieces of pineapple & lemon juice, sweet & sour
Mild
£11.95
Dhansak Tandoori (Off Bone)
A mild lentil based dish with pieces of pineapple & lemon juice, sweet & sour
Mild
£7.95
Korai Chicken Tikka
Prepared with herbs & spices with cardamom & bay leaves
£7.50
Korai Lamb Tikka
Prepared with herbs & spices with cardamom & bay leaves
£8.95
Korai King Prawn
Prepared with herbs & spices with cardamom & bay leaves
£9.95
Korai Lamb
Prepared with herbs & spices with cardamom & bay leaves
£7.95
Korai Prawn
Prepared with herbs & spices with cardamom & bay leaves
£7.50
Korai Vegetable
Prepared with herbs & spices with cardamom & bay leaves
£5.95
Korai Mixed
Prepared with herbs & spices with cardamom & bay leaves
£7.50
Korai King Prawn Tikka
Prepared with herbs & spices with cardamom & bay leaves
£11.95
Korai Tandoori (Off Bone)
Prepared with herbs & spices with cardamom & bay leaves
£7.95
Rogan Josh Chicken Tikka
A tomato & onion based curry flavoured with coriander
Slightly Hot
£7.50
Rogan Josh Lamb Tikka
A tomato & onion based curry flavoured with coriander
Slightly Hot
£8.95
Rogan Josh King Prawn
A tomato & onion based curry flavoured with coriander
Slightly Hot
£9.95
Rogan Josh Chicken
A tomato & onion based curry flavoured with coriander
Slightly Hot
£6.95
Rogan Josh Lamb
A tomato & onion based curry flavoured with coriander
Slightly Hot
£7.95
Rogan Josh Prawn
A tomato & onion based curry flavoured with coriander
Slightly Hot
£7.50
Rogan Josh Vegetable
A tomato & onion based curry flavoured with coriander
Slightly Hot
£5.95
Rogan Josh Mixed
A tomato & onion based curry flavoured with coriander
Slightly Hot
£7.50
Rogan Josh King Prawn Tikka
A tomato & onion based curry flavoured with coriander
Slightly Hot
£11.95
Rogan Josh Tandoori (Off Bone)
A tomato & onion based curry flavoured with coriander
Slightly Hot
£7.95
Dupiaza Chicken Tikka
A rich but mild flavour same sauce combining fresh onions & whole spices
Mild
£7.50
Dupiaza Lamb Tikka
A rich but mild flavour same sauce combining fresh onions & whole spices
Mild
£8.95
Dupiaza King Prawn
A rich but mild flavour same sauce combining fresh onions & whole spices
Mild
£9.95
Dupiaza Chicken
A rich but mild flavour same sauce combining fresh onions & whole spices
Mild
£6.95
Dupiaza Lamb
A rich but mild flavour same sauce combining fresh onions & whole spices
Mild
£7.50
Dupiaza Prawn
A rich but mild flavour same sauce combining fresh onions & whole spices
Mild
£7.50
Dupiaza Vegetable
A rich but mild flavour same sauce combining fresh onions & whole spices
Mild
£5.95
Dupiaza Mixed
A rich but mild flavour same sauce combining fresh onions & whole spices
Mild
£7.50
Dupiaza King Prawn Tikka
A rich but mild flavour same sauce combining fresh onions & whole spices
Mild
£11.95
Dupiaza Tandoori (Off Bone)
A rich but mild flavour same sauce combining fresh onions & whole spices
Mild
£7.95
Vindaloo Chicken Tikka
Ground chillies cooked with herbs & a piece of tomato to create a very hot but flavoured dish
Very Hot
£7.50
Vindaloo Lamb Tikka
Ground chillies cooked with herbs & a piece of tomato to create a very hot but flavoured dish
Very Hot
£8.95
Vindaloo King Prawn
Ground chillies cooked with herbs & a piece of tomato to create a very hot but flavoured dish
Very Hot
£9.95
Vindaloo Chicken
Ground chillies cooked with herbs & a piece of tomato to create a very hot but flavoured dish
Very Hot
£6.95
Vindaloo Lamb
Ground chillies cooked with herbs & a piece of tomato to create a very hot but flavoured dish
Very Hot
£7.95
Vindaloo Prawn
Ground chillies cooked with herbs & a piece of tomato to create a very hot but flavoured dish
Very Hot
£7.50
Vindaloo Vegetable
Ground chillies cooked with herbs & a piece of tomato to create a very hot but flavoured dish
Very Hot
£5.95
Vindaloo Mixed
Ground chillies cooked with herbs & a piece of tomato to create a very hot but flavoured dish
Very Hot
£7.50
Vindaloo King Prawn Tikka
Ground chillies cooked with herbs & a piece of tomato to create a very hot but flavoured dish
Very Hot
£11.95
Vindaloo Tandoori (Off Bone)
Ground chillies cooked with herbs & a piece of tomato to create a very hot but flavoured dish
Very Hot
£7.95
Samber Chicken Tikka
A curry concoction cooked with lentils & garlic
Hot & Spicy
£7.50
Samber Lamb Tikka
A curry concoction cooked with lentils & garlic
Hot & Spicy
£8.95
Samber King Prawn
A curry concoction cooked with lentils & garlic
Hot & Spicy
£9.95
Samber Chicken
A curry concoction cooked with lentils & garlic
Hot & Spicy
£6.95
Samber Lamb
A curry concoction cooked with lentils & garlic
Hot & Spicy
£7.95
Samber Prawn
A curry concoction cooked with lentils & garlic
Hot & Spicy
£7.50
Samber Vegetable
A curry concoction cooked with lentils & garlic
Hot & Spicy
£5.95
Samber Mixed
A curry concoction cooked with lentils & garlic
Hot & Spicy
£7.50
Samber King Prawn Tikka
A curry concoction cooked with lentils & garlic
Hot & Spicy
£11.95
Samber Tandoori (Off Bone)
A curry concoction cooked with lentils & garlic
Hot & Spicy
£7.95
Madras Chicken Tikka
A hot favourite. A curry with coriander & ground chillies for that exquisite flavour
Hot
£7.50
Madras Lamb Tikka
A hot favourite. A curry with coriander & ground chillies for that exquisite flavour
Hot
£8.95
Madras King Prawn
A hot favourite. A curry with coriander & ground chillies for that exquisite flavour
Hot
£9.95
Madras Chicken
A hot favourite. A curry with coriander & ground chillies for that exquisite flavour
Hot
£6.95
Madras Lamb
A hot favourite. A curry with coriander & ground chillies for that exquisite flavour
Hot
£7.95
Madras Prawn
A hot favourite. A curry with coriander & ground chillies for that exquisite flavour
Hot
£7.50
Madras Vegetable
A hot favourite. A curry with coriander & ground chillies for that exquisite flavour
Hot
£5.95
Madras Mixed
A hot favourite. A curry with coriander & ground chillies for that exquisite flavour
Hot
£7.50
Madras King Prawn Tikka
A hot favourite. A curry with coriander & ground chillies for that exquisite flavour
Hot
£11.95
Madras Tandoori (Off Bone)
A hot favourite. A curry with coriander & ground chillies for that exquisite flavour
Hot
£7.95
Bhuna Chicken Tikka
A medium strength curry cooked with onions, herbs & aromatic spices
Medium
£7.50
Bhuna Lamb Tikka
A medium strength curry cooked with onions, herbs & aromatic spices
Medium
£8.95
Bhuna King Prawn
A medium strength curry cooked with onions, herbs & aromatic spices
Medium
£9.95
Bhuna Chicken
A medium strength curry cooked with onions, herbs & aromatic spices
Medium
£6.95
Bhuna Lamb
A medium strength curry cooked with onions, herbs & aromatic spices
Medium
£7.95
Bhuna Prawn
A medium strength curry cooked with onions, herbs & aromatic spices
Medium
£7.50
Bhuna Vegetable
A medium strength curry cooked with onions, herbs & aromatic spices
Medium
£5.95
Bhuna Mixed
A medium strength curry cooked with onions, herbs & aromatic spices
Medium
£7.50
Bhuna King Prawn Tikka
A medium strength curry cooked with onions, herbs & aromatic spices
Medium
£11.95
Bhuna Tandoori (Off Bone)
A medium strength curry cooked with onions, herbs & aromatic spices
Medium
£7.95
Korma Chicken Tikka
For that milder taste coconut in cream sauce & freshly ground spices
£7.50
Korma Lamb Tikka
For that milder taste coconut in cream sauce & freshly ground spices
£8.95
Korma King Prawn
For that milder taste coconut in cream sauce & freshly ground spices
£9.95
Korma Chicken
For that milder taste coconut in cream sauce & freshly ground spices
£6.95
Korma Lamb
For that milder taste coconut in cream sauce & freshly ground spices
£7.95
Korma Prawn
For that milder taste coconut in cream sauce & freshly ground spices
£7.50
Korma Vegetable
For that milder taste coconut in cream sauce & freshly ground spices
£5.95
Korma Mixed
For that milder taste coconut in cream sauce & freshly ground spices
£7.50
Korma King Prawn Tikka
For that milder taste coconut in cream sauce & freshly ground spices
£11.95
Korma Tandoori (Off Bone)
For that milder taste coconut in cream sauce & freshly ground spices
£7.95
Jalfrezi Chicken Tikka
Fresh green chillies & coriander cooked with herbs
Hot
£7.50
Jalfrezi Lamb Tikka
Fresh green chillies & coriander cooked with herbs
Hot
£8.95
Jalfrezi King Prawn
Fresh green chillies & coriander cooked with herbs
Hot
£9.95
Jalfrezi Chicken
Fresh green chillies & coriander cooked with herbs
Hot
£6.95
Jalfrezi Lamb
Fresh green chillies & coriander cooked with herbs
Hot
£7.95
Jalfrezi Prawn
Fresh green chillies & coriander cooked with herbs
Hot
£7.50
Jalfrezi Vegetable
Fresh green chillies & coriander cooked with herbs
Hot
£5.95
Jalfrezi Mixed
Fresh green chillies & coriander cooked with herbs
Hot
£7.50
Jalfrezi King Prawn Tikka
Fresh green chillies & coriander cooked with herbs
Hot
£11.95
Jalfrezi Tandoori (Off Bone)
Fresh green chillies & coriander cooked with herbs
Hot
£7.95
Machli Bhuna (Apna Style)
Boneless fish with greater use of onions & capsicums
£8.95
Exotic Fish Hot
Fish in black pepper, garlic & spring onion marinated with cinnamon spice
£8.95
Exotic Fish Medium
Fish in black pepper, garlic & spring onion marinated with cinnamon spice
£8.95
Machli Jalfrezi
Boneless fish with chopped green chillies, onions & capsicums
£8.95
Apna Biriyani
Chicken & lamb cooked in Asian style spices (HOT)
£8.95
Alif Biryani
Chicken tandoori (off the bone) cooked with chick peas & whole garlic & tomato puree served with vegetable sauce
£8.95
Biryani Chicken Tikka
Classic rich dish made with nuts & sultanas with a medium vegetable sauce
Medium
£8.00
Biryani Lamb Tikka
Classic rich dish made with nuts & sultanas with a medium vegetable sauce
Medium
£9.50
Biryani King Prawn
Classic rich dish made with nuts & sultanas with a medium vegetable sauce
Medium
£9.95
Biryani Chicken
Classic rich dish made with nuts & sultanas with a medium vegetable sauce
Medium
£7.50
Biryani Lamb
Classic rich dish made with nuts & sultanas with a medium vegetable sauce
Medium
£8.95
Biryani Prawn
Classic rich dish made with nuts & sultanas with a medium vegetable sauce
Medium
£8.95
Biryani Vegetable
Classic rich dish made with nuts & sultanas with a medium vegetable sauce
Medium
£7.00
Biryani Tandoori (On the Bone)
Classic rich dish made with nuts & sultanas with a medium vegetable sauce
Medium
£8.00
Biryani Mixed
Classic rich dish made with nuts & sultanas with a medium vegetable sauce
Medium
£8.95
Biryani King Prawn Tikka
Classic rich dish made with nuts & sultanas with a medium vegetable sauce
Medium
£11.95
Sajahan Biryani
A mixture of different barbecued meats cooked in rice & sultanas & served with a vegetable sauce
£8.95
Chana Bhaji
Chickpeas in spices, tomatoes & herbs
£3.00
Saag Aloo
Spinach & potatoes with herbs & spices
£3.00
Mushroom Bhaji
Mushroom in spices, tomatoes & herbs
£3.00
Aloo Gobi
Potatoes & cauliflower with herbs & spices
£3.00
Cauliflower Bhaji
Cauliflower in spices, tomatoes & herbs
£3.00
Mixed Vegetable Bhaji
Mixed vegetables in spices, tomatoes & herbs
£3.00
Saag Bhaji
Spinach in spices, tomatoes & herbs
£3.00
Tarka Daal
Lentil garnished with garlic
£3.50
Saag Paneer
Cheese & spinach with herbs & spices
£3.95
Aloo Methi
Potatoes cooked with fenugreek leaves
£3.00
Bombay Aloo
Potato with herbs, spices & tomatoes
£3.00
Cheese Paratha
Cheese thick crispy bread
£3.50
Keema Paratha
Minced meat thick crispy bread
£3.50
Garlic & Coriander Naan
Paratha stuffed thick bread fried in butter
£2.50
Keema Naan
Minced meat stuffed bread
£2.50
Puree
Deep fried unleavened bread
£1.20
Plain Naan
Leavened bread
£2.30
Keema , Cheese & Garlic Naan
£4.00
Paratha
Thick chapati coated with butter & slightly crispy
£3.00
Chapati
Soft unleavened bread
£1.20
Garlic & Coriander Paratha
Stuffed thick crispy bread fried in butter
£3.50
Peshwari Naan
Coconut & sultana stuffed bread
£2.50
Garlic Naan
Garlic stuffed bread
£2.50
Chutney Tray
Mango,chilli sauce & Red onion
£1.20
Chicken Nuggets
Deep fried in breadcrumbs
£6.95
Alif Kebab
Seekh kebab, chicken tikka, lamb tikka & donner meat
£7.95
Shish Kebab on Naan
3 Shish Kebabs on Nan Salad & Mint Sauce
£6.00
Chicken Fried Rice
Plain diced chicken with rice (suitible for children)
£4.00
Kebab Rolls Chicken Tikka
On Nan Bread with Salad and tub of Mint Sauce
£6.00
Kebab Rolls Lamb Tikka
On Nan Bread with Salad and tub of Mint Sauce
£7.00
Kebab Rolls Chicken Tikka & Cheese
On Nan Bread with Salad and tub of Mint Sauce
£6.50
Kebab Rolls Chicken Tikka Onion & Peppers
On Nan Bread with Salad and tub of Mint Sauce
£6.50
Kebab Rolls Chicken Tikka & Lamb Tikka
On Nan Bread with Salad and tub of Mint Sauce
£7.00
Donner Kebab Donner & Chips
£6.00
Donner Kebab Donner on Nan
£6.00
Set Meal For 4 Persons
4 Poppadoms
Chutney
Shish kebab
Chicken tikka
Onion bhaji
Hoppers
Chicken tikka masala
Lamb rogan josh
Chicken Madras
Aloo gobi (side)
Egg rice
Mushroom rice
Garlic Nan
Plain nan
£39.95
Set Starter A For 2 Persons
Chicken pakora, shish kebab & hoppers
£7.95
Set Meal For 1
2 Poppadoms
Chutney
Onion bhaji
Chicken tikka bhuna
Mixed vegetable bhaji
Keema rice
Naan bread
£14.95
Tandoori Palore-Set Meal For 2 Tandoori Lovers
2 Poppadoms
Chutney
Chicken samosa
Shish kebab
Lamb chops
Tandoori chicken
Pilau rice
Garlic naan
Choice of any sauce
£24.95
Vegetarian Set Meal For 2
2 Poppadom
Chutney
Onion bhaji
Coli Pakora
Vegetable bhuna
Aloo gobi samber
Saag bhaji
Mushroom rice
Nan bread
£19.95
Set Meal For 2 Persons
Shish kebab
Hoppers
Chicken Tikka masala
Lamb balti
Aloo gobi
Keema pilau rice
Naan bread
£22.95
Set Starter B For 2 Persons
Chicken tikka, hoppers, prawn puri & shish kebab
£9.95
Contact Us
Find Us
170 New Street Blackrod, Horwich, BL65AQ
We deliver to
BL5, BL6, PR6, PR7, WN2